1Watt BLUE LED
Stock: 77

InStock
SKU: 1061 | DAB188
Rs.

18.88 (inc GST)




Rs.16.00 + GST

Qty :
GST Invoice

on all Purchase. So you will be eligible to take input tax credit.
IF component not in Stock or require more quantity or want to

buy in bulk

e-mail us your requirements on: dnatechindia "at" gmail.com.
Shipping

: Due to Covid-19 situation delivery will be affected. Delivery period due to covid-19 issue will be from 4 - 12 days depending upon your location.
1Watt BLUE LED
A light-emitting diode (LED) is a two-lead semiconductor light source.
It is a p

–n junction diode, which emits light when activated. When a suitable voltage is applied to the leads, electrons are able to recombine

with electron holes within the device, releasing energy in the form of photons. This effect is called electroluminescence, and the color of the light (corresponding to the energy of the photon) is determined by the energy band gap of the semiconductor. LEDs are typically small (less than 4 mm ) and integrated optical components may be used to shape the radiation pattern. The 1watt Blue LED it's Luminous Intensity 15mW to 30mW with 460nm-470nm Wavelength.
Features of Blue LED
Long life & low luminous decay

PB free & ROHS compliant

Great consistency

High reliability, no color difference

7.5mm low power LED,1W.

Emitted Color : Blue


Viewing Angle : 115 degrees ~ 125 degrees

DC Forward Voltage (VF) : 3.2V ~ 3.8V

DC Forward Current (IF) : 330mA ~ 370mA

Luminous Intensity : 15mW ~ 30mW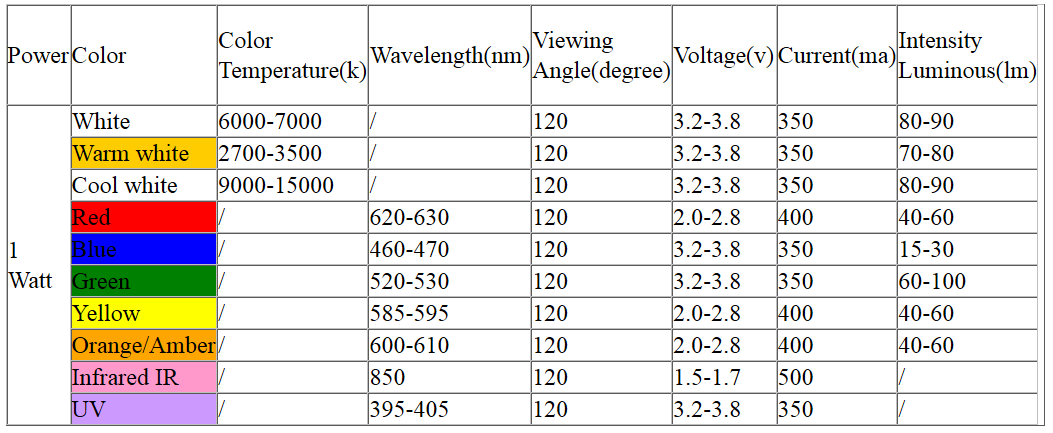 Extra Information
Country of Origin
China
Imported By
ElectroSource Private Limited
NEW Products
Product Page : New Products
Have You Seen
Product Page : Have You Seen
Related Products