W1209 Mini Thermostat Temperature Controller
Product Code: 1004

Availability: 6
Price :

Rs.

221.25 (inc GST)

Qty :

Quantity Pricing (inc GST)

3 +

215.72

7 +

210.19

10 +

204.66

20 +

199.13
GST Invoice

on all Purchase. So you will be eligible to take input tax credit.
IF component not in Stock or require more quantity or want to

buy in bulk

e-mail us your requirements on: dnatechindia "at" gmail.com.
Shipping

: Same day dispatch for Most orders if payment done before 4 pm. Delivery Normally takes 2 to 7 working days depending upon your location.
W1209 Mini Thermostat Temperature Controller
W1209 Mini thermostat Temperature controller

is low cost 12 volt Temperature controller with 7-segment display and 3 switch keypad for setting temperature and other parameters. A NTC thermister is used for temperature sensing and has a accuracy of 0.1 C.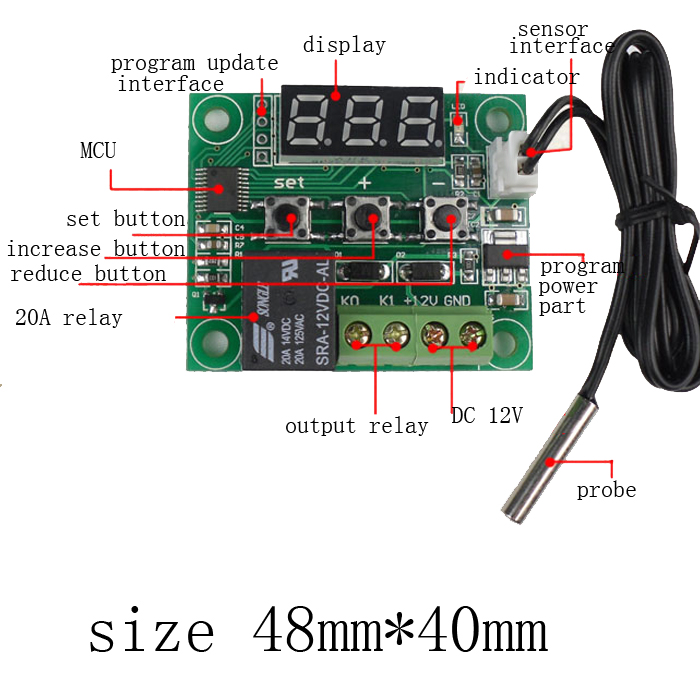 For calibration and Settings for W1209 Temperature Controller Check below Video




Features of W1209 Temperature Controller

Supply voltage: DC 12V

Static current: ≤35MA, attract current ≤65MA

Output voltage: DC 12V

Output power: 10A relay

Measurement input: NTC (10K 0.5%) Waterproof Sensor

Environmental requirements: -10 ~ 60°C, Humidity 20% ~ 85%

Dimensions: 48 x 40mm

Cable length: About 52 cm

Temperature control mode: ON / OFF

Temperature range: -50 ~ +110°C

Control accuracy: 0.1°C

Hysteresis accuracy: 0.1°C

Refresh rate: 0.5S

High temperature protection: 0 ~ 110°C

Resolution: When temperature is 0.1°C, the resolution is -9.9~99.9, other temperature segment is 1°C
NEW Products
Product Page : New Products
Have You Seen
Product Page : Have You Seen
Related Products
Tags: Sensor, Temperature Sensor