MCP3008 10 Bit ADC
Stock: Out Of Stock

NotInStock
SKU: 0440 | DAA037
Rs.

313.88 (inc GST)




Rs.266.00 + GST

Qty :
GST Invoice

on all Purchase. So you will be eligible to take input tax credit.
IF component not in Stock or require more quantity or want to

buy in bulk

e-mail us your requirements on: dnatechindia "at" gmail.com.
Shipping

: Due to Covid-19 situation delivery will be affected. Delivery period due to covid-19 issue will be from 4 - 12 days depending upon your location.
MCP3008 10 Bit ADC
8-Channel 10-Bit Analog to Digital Convertor with SPI Serial Interface
MCP3008 is an 16 pin Analog to Digital converter from Microchip

. If you require a 8 Channel ADC with resolution higher than ADC0808 then this ADC is for you. Moreover it communicates with controller using SPI interface thereby saving controller pins. So now no need of using higher pin controllers just to interface an ADC. This ADC can also be used with raspberry pi there are lot of tutorials online on how to interface MCP3008 ADC to raspberry pi

.
MCP3008 is a successive approximation
10-bit Analog to Digital
(A/D) converter

with on-board sample and
hold circuitry. It is programmable
to provide four pseudo-differential input pairs or eight
single-ended inputs. Differential nonlinearity (DNL)
and Integral Nonlinearity (INL) are specified at ±1 LSB.
Communication with the devices is accomplished using
a simple serial interface compatible with the SPI
protocol. The devices are capable of conversion rates
of up to 200 ksps. The MCP3008 devices operate
over a broad voltage range (2.7V - 5.5V). Low-current
design permits operation with typical standby currents
of only 5 nA and typical active currents of 320 µA. The MCP3008 is offered in 16-
pin PDIP and SOIC packages.
Features of MCP 3008 ADC
10-bit resolution




± 1 LSB max DNL




± 1 LSB max INL




8 input channels




Analog inputs programmable as single-ended or pseudo-differential pairs




On-chip sample and hold




SPI serial interface (modes 0,0 and 1,1)




Single supply operation: 2.7V - 5.5V




200 ksps max. sampling rate at VDD = 5V




75 ksps max. sampling rate at VDD = 2.7V




Low power CMOS technology




5 nA typical standby current, 2 µA max.




500 µA max. active current at 5V




Industrial temp range: -40°C to +85°C
Applications of MCP 3008 ADC
Sensor Interface




Process Control




Data Acquisition




Battery Operated Systems
MCP3008 ADC

is used extensively with

Raspberry Pi for interfacing various analog sensors

with it as raspberry pi does not have internal analog to digital converter. Lot of tutorials for interfacing MCP3008 with Raspberry Pi are available online.
Related Details


Having wiring issues when connecting Rpi3 to MCP3008? Did you try out our
MCP3008 Breakout Board
?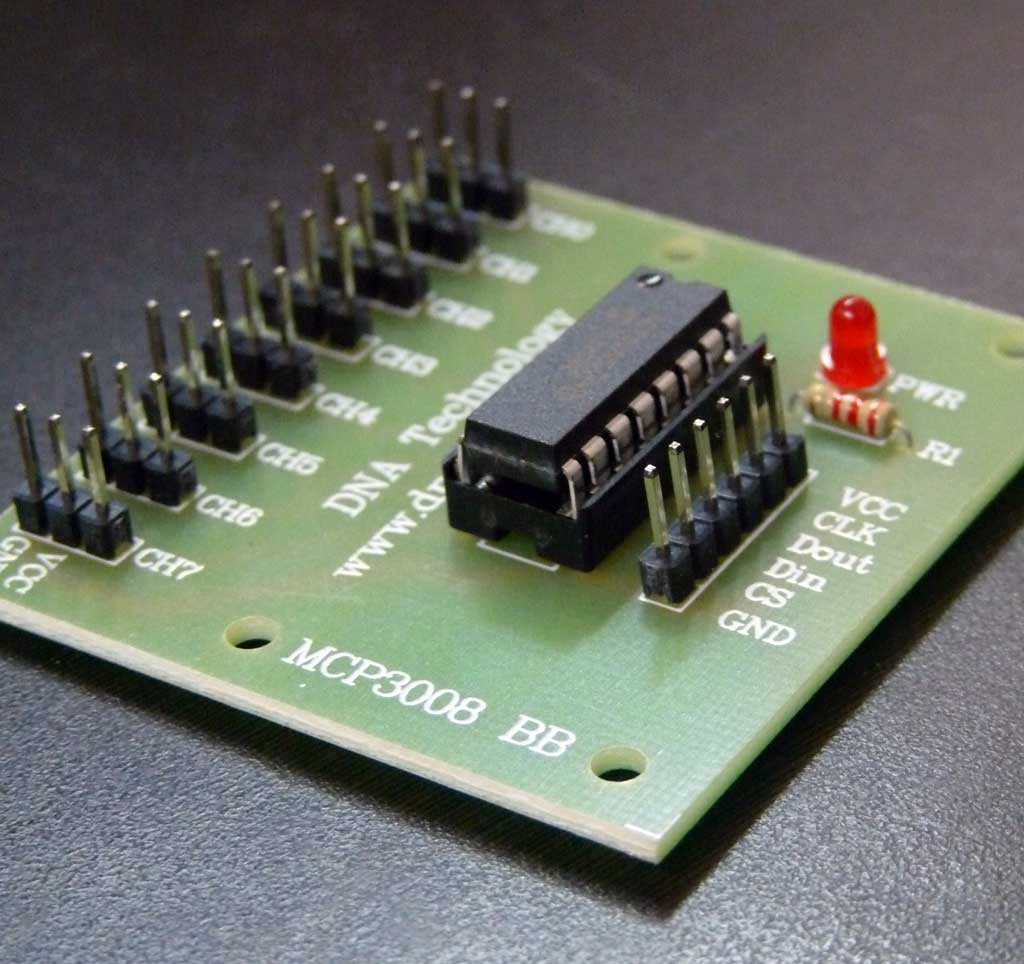 Extra Information
Country of Origin
China
Imported By
ElectroSource Private Limited
NEW Products
Product Page : New Products
Have You Seen
Product Page : Have You Seen
Related Products